Phase One, II:
Becoming Aware of Oneself and Developing One's Own Creativity
During the second step of phase one, emphasis is placed not only on dialogue with "oneself" but above all on dialogue with others ("one's opposite" or "you" ), the immediate environment, with teachers and coaches. Individuals are encouraged to integrate themselves truly and fully into the group dialogue. They experience themselves as part of the group and are given feedback to their contributions. They learn to see things in their context, to better understand them just as they will better understand themselves and the points of view of others. By recognizing themselves in their opposites - looking into the mirror as it were - individuals can find out whether and how they will integrate into their future working environment.
Getting to know oneself means being confronted by one's own being and personality, one's individual potential, one's skills and talents, but also one's weaknesses and fears. The objective of this phase is to make individuals aware of all their possibilities and to help them find the right direction in life. There are many forms of creativity from which to choose (e.g. theatre, dance, music, books, creative writing and painting, experimenting with language) to experience and express oneself in a variety of different ways.
The individual is more than the sum total of past events. Yet it helps to deal with one's past to understand "who I am and which part of my environment has influenced/is influencing me most."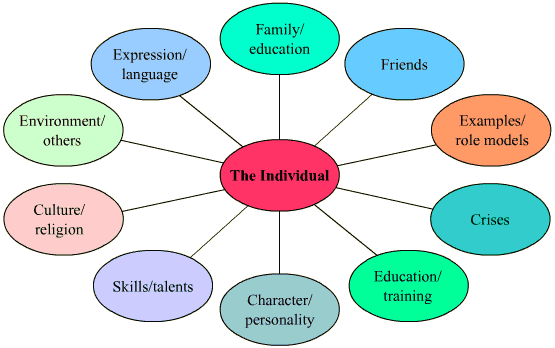 Individuals are called upon to see, hear and sense for themselves, to decide for themselves how they want to deal with outside influences in the future. Obstacles are challenges too for they bear many opportunities in them.
The orientation course is open to people of all ages and thus becomes a place of contact for different generations. By engaging in dialogue with each other participants become aware of what makes each one of them individual and unique but also of what all of them have in common. Thus they learn how to complement each other creatively to form a meaningful whole.
International networks are established to unite people from different countries with different religious and cultural background. One of the main objectives of the orientation course in this context is to support inter-cultural understanding and mutual tolerance.
Becoming aware of oneself
recognizing one's vocation and vision of life
rediscovering one's pote
being able to engage in dialogue, being careful and open
being truthful to oneself and to others
becoming aware of one's own creativity and developing one's own style of expression
linking knowledge and intuition with action (social, team-oriented and tolerant)
becoming sensitive to one's own needs as well as those of others, trusting oneself, showing courage and love
developing the necessary clarity of vision and farsightedness
judging one's powers/passive and active ones
showing responsibility: assuming responsibility for one's actions and omission of actions
Once individuals have recognized their vocation they are assisted in developing different options and in finding a suitable place for practical training.
Duration of first phase
3 - 4 weeks, depending on individual needs and/or requirements
Phase Two:
Practical Training and Emphasis on Subject Matter