---
Purpose & Goals
---
The worldwide proliferation of ethnic, political, religious, and social conflicts, as well as our inability to respond to them in a way that does not merely feed the cycle of violence, demonstrates daily that peace cannot be taken for granted. It is our conviction that peace must be continually learned, experienced, and gained anew. In order to achieve this, not only is a particular political thinking or intellectual approach necessary, but also a training of the mind and the heart. Such an education is not yet offered in our schools and universities, or is it adequately provided by our conventional information systems and mass media.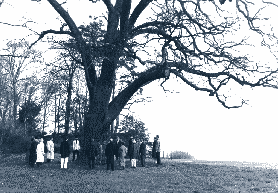 "with nature in peace"
Workshop with students in April 1993

The Society of Founders of the International Peace University Inc. (Fördergemeinschaft zur Gründung einer Friedensuniversität e.V. [FGF]), established as a private non-profit organization, dedicates its activities to the education of the heart, mind, and consciousness, on the personal and the collective level. The relationship between inner and outer peace and between ethical values and social responsibility constitute points of departure for our coursework and research.

A culture of dialogue serves those ends, because it creates environments where conflict can be managed nonviolently. True dialogue has to be established, it cannot be taken for granted. In open public discussions on every level, the IPU-project not only promotes a critical understanding, but also develops tools for confronting and dealing with human difference through innovative models of communication. As a forum for contrasting viewpoints, the IPU-project initiates practice-oriented educational and research programmes and integrates new forms of cooperation between the sciences, politics, business, culture, religion and the media, in order to use synergies in a meaningful way and to develop new solutions.
---
The goal of the IPU-project is the founding of the International Peace University that will augment the curriculums of existing universities by offering transdisciplinary study and training courses for innovative professions. The courses and research work of the International Peace University have an intercultural and transdisciplinary character and seek to integrate people of all walks of life.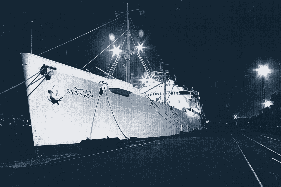 "Golden Bear", the former Second World War warship and the future campus of the IPU-project

The Peace University will replace the typical modern teacher-student relationship with the dialogue-oriented instruction that belonged to the original concept of universities. Different generations will collaborate; the barriers between learning and working will blur. We will encourage and develop individual responsibility, eagerness to take risks, and the ability to be part of a team. The courses will be offered in different countries in co-operation with partnership organizations and aim to enhance participants' mobility, flexibility, and readiness for change in times of insecurity as well as social and environmental transformation.

Over the next few years, the IPU-project, in collaboration with the ARTSHIP Foundation in Oakland, California, will refurbish a former Second World War warship and transform it into a peace and cultural education center. This ship will become the site for the first campus of the International Peace University.