---
Finances
---
The over 600 courses and seminars that have taken place since the IPU-project was created in 1991 have been financed through membership contributions and numerous donations from over a thousand private persons who feel connected to the idea of the Peace University. Companies and foundations like Audi, the Austrian National Bank, the Axel Springer Publishing House, BMW, the Heinrich Böll Foundation, HUGO BOSS, the German Federal Foundation for Environment, Lufthansa, Swissair, the Swiss National Insurance Company as well as the Austrian government and the European Commission have also supplied donations and grants.
All the 250 lecturers and artists who have participated in the events of the IPU-project have offered their work free of charge. The members of the board also serve in a volunteer capacity.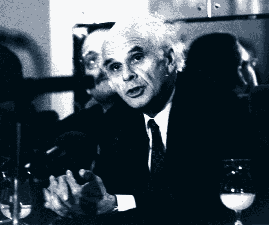 Ervin Laszlo, march 1993
Renaissance-Theatre, Berlin
All FGF activities can only take place with the generous support of members, foundations, and sponsors.
The German Tax Authority recognizes the IPU-project as a charitable organization, because of its "special promotion of education and professional training, as well as its support of students, and its advancement of an internationally-based open-mindedness, tolerance in all areas of culture and understanding between nations".
Donations, which the IPU-project needs in order to fulfill its task, are therefore tax deductible.